I just got a new book on Landscape Photography, Living Landscapes by Todd and Sarah Sisson of New Zealand… I like it a lot!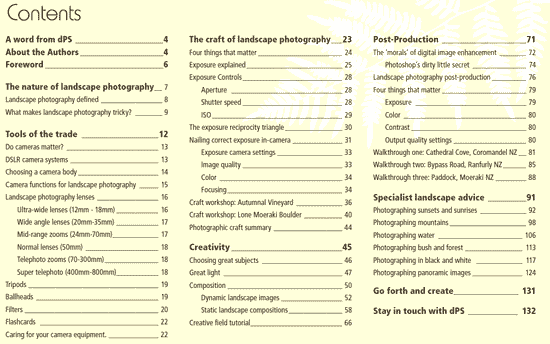 A quick look at the Table of Contents shows how complete this book is… good information for photographers from the newest beginner to experienced pros. There are a few areas where I might do or say things differently, but that's what photography is all about – individual expression. And the book is excellent overall, and well worth the modest purchase price – I don't regret spending what it cost me, and no, they didn't give me a free copy to review, they don't even know that I have written this review (though I may tell them later after I publish this). So the reporting is all mine, and not done to make you feel good and buy the book – I'd recommend you buy it for the simple reason that it is a good, very reasonably priced resource.
Todd and Sarah begin at the beginning with a good definition of landscape photography. Todd says, "Basically, if landforms are a major element in the composition, I would call it a landscape image." Simple… the hallmarks of a good definition.
Todd and Sarah then take us through most of the "compromises" that enter into our photographic decisions every time we take a picture: the light and how we can control it, the camera we have – a decision often based on budget, and us… how much we know and how well can we apply it.
Then an extensive examination of the, "Tools of the Trade." The stuff we need and the stuff it would be nice to have that will help us get the best landscape images without wearing us out carrying it all around, or emptying our wallets to buy it. Again, as photographers, it is up to us to decide what works best.
Next, and extensive section on the real, "craft" of photography – how best to use the camera and its controls to give us big landscape prints we want to hang on the wall to show our friends. I like this section a lot as it really gets into the nitty gritty, to help us get those great shots. I like it also because he "dissects" a couple of images so you can see the real world decisions – read, "compromises" – that were made to get to the final image. As in the case of Lone Moeraki Bolder where one of the decisions he was making was shooting quickly because his tripod was sinking in the sand each time a wave came in and washed around his feet!
Next, they go into the real Photographic Decisions… Composition, Light, Motion. And this section is very comprehensive, and will help both beginners and advanced photogs "see" the great shots before even setting up the camera. (My note here: on Page 50, I my preference would be between Todd and Sarah's versions of the Church of the Good Shepherd at Lake Tekapo. I agree with his comments about the picture that has him in it, but I think Sarah's has too much naked sky. My taste, zoom in and tilt down a bit. See what you think and how you would take it differently. But I really like their Autumn Poplars on Page 61.
I also have a good article on composition I wrote a few years ago, "The Top Three Photographic Composition Tricks." that may help you get just the right shot. In this area, I also like Todd's comment about the greatest composition tool, you own legs!
Todd and Sarah also have a very comprehensive section on Post Production – what you can do in your computer after you click the shutter. This section alone would be worth the price of the book. They go into great depth on the differences between Adobe Photoshop
and Adobe Photoshop Lightroom 5
and why you need both in your digital gadget bag as each does things a bit differently and one program is better for some techniques, while the other works best for others… you need them both. But the step by steps that they give you are absolutely great.
I might have liked to see a bit of an in depth discussion on High Dynamic Range (HDR) photography as this is a topic that fascinates me.
Todd and Sarah's book seems only to have photos from their native New Zealand, and the beautiful places they show make me definitely want to take a camera down there for some fun. But I can't help but think they would really have a ball visiting Yellowstone National Park and some of the other spectacular places here in the USA. I hope they make it someday.
All that, and the book is beautifully laid out with great photos. A lot of care and love went into the content and preparation of this book, and your landscape photos can only be better from reading and following the books ideas and techniques. By all means, get your copy right away and, Get Shooting!