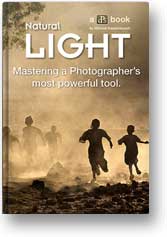 Professional travel photographer Mitchell Kanashkevich begins his great book, Natural Light: Mastering a Photographer's Most Powerful Tool with his powerful philosophy of the role of light in Photography, and shares with us how learning light has been a very personal journey for him. As he explores light and photography, he shares good insight into what types of photos are best taken based on the light that is available, and how to take advantage of natural, or available light to enhance the atmosphere and quality of your photographs.
The next pleasure you will get from this outstanding book is how well it is illustrated with abundant excellent photographs.
Take a look at the Table of Contents for the list of subjects he covers in great depth: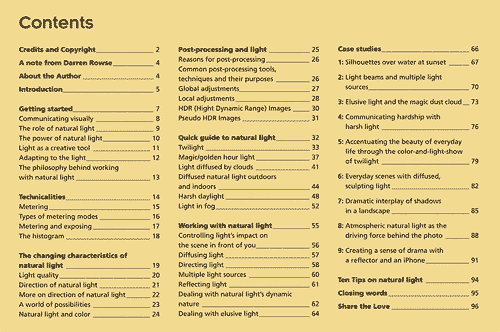 He then explains well, with enlightening examples, how light changes color throughout the day… Remember: though our eyes adapt to different colors of light, cameras can only adapt to different light colors to a certain degree.
And he has a very good start up primer on post processing (as we used to say when producing videos and sound tracks, "Fix it in the Mix…" which is now a legitimate post production tool), including HDR or High Dynamic Range, photography using Adobe Photoshop
, Lightroom
, and Photomatix. This is extremely helpful! It even covers "pseudo HDR" using a single exposure (also see my post recommending a couple of excellent High Dynamic Range photography articles: http://www.greatphototools.com/blog/hdr-photography-high-dynamic-range-article-recommendations/)
Mitchell wraps up the book with quite a few case studies with complete deconstruction of natural lighting plots, how exposure was determined, and post-processing used to achieve the final image –  good ways to benefit from challenging lighting situations and achieve a great photograph. And he has a nice treatment of how to "direct" the light that you normally can't control.
You'll enjoy his occasionally poetic writing that nicely complements the creativity of his photography.
As someone who has taught photography myself, I can sympathize with the difficulty of explaining photographic concepts so everyone can understand them. Though I might explain some points differently than Mitchell did, I think he has done very well. One small quibble I have is that I think he should have more deeply delved into how we use light to emphasize the shape of our subjects – as I said, a quibble.
If you're looking for a good, strong, well-illustrated with very good photographs, essay explaining the best ways to take great photographs under various natural lighting conditions, this is a great book, and I highly recommend it. Will it be the only book you'll want to get on natural light photography, no. But is it well worth the reasonable cost and time to read and re-read? Absolutely yes.
Get your copy of Natural Light: Mastering a Photographer's Most Powerful Tool.

Please Note: The links on this page are, "Affiliate Links." This means that, at no additional cost to you, I may earn a commission should you purchase this great book. But as you would expect, I only recommend people and companies – and this book – with whom I already do business, or have done business with in the past, and whom I trust and respect. I recommend them because I find that they are helpful, useful, and have much to offer, not because of any small commissions I might make should you decide to purchase from them – in the case of this book, I have purchased it, and I highly recommend it. Please do not spend any money on any products unless you feel you need them or that they will help you achieve your photographic goals.