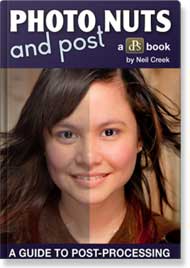 Here is my photo book review of the third book in Neil Creek's smart photo book series, "Photo Nuts and…" currently with four titles:
Transform Your Photos with the Power of Post Processing
Building on the groundwork in his previous three helpful books in his Photo Nuts and… series, this book is a great capstone. The entire four book series is a great addition to both experienced and newbie photographers' electronic book shelves.
Though the earlier books in the series were mostly refresher for us "more experienced" photographers (but still with much to learn and remember), Photo Nuts and Post, at least for me, was very much a learning experience. You can take a look at the Table of Contents here. It connected many of the tools I've used in the past in the film world with how I can use digital manipulations and enhancements to create better photos than I have ever been able to create. For me, since a great deal of my image library is in slides, or even B&W negatives, since I have been taking photos for 60+ years, I often cannot take as much advantage of the depth of processing available shooting today in the Raw format, but there was still much to learn in this great book – and this is certainly encouraging me to shoot more in Raw format than I might have been inclined to do in the past. Plus, much of what I learned here can certainly be used on scans of my slides and negs (see my comments on Ron Berard's technique for Single Image HDR photography, and my subsequent review of PhotoMatix HDR processing software).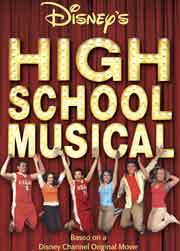 Before you start serious image processing, you will definitely want to calibrate your monitor using hardware and software from X-Rite
, Datacolor
, or some equivalent system. A few years back, I was shooting photos of the cast and crew of our daughter's high school musical to create a poster for the lobby outside the auditorium. I created the file using my, at that time, un-calibrated computer monitor. When I sent the file to the printer to create the poster, they called back saying that the image was way too dark – it looked fine on my screen. I bought a Datacolor Spyder calibration system, calibrated the monitor, redid the poster, and sent it off to the poster maker. It printed great – and a copy is still hanging on the wall in my office (the actual poster is 20"x30"). But until I calibrated my monitor, there was no way I could create an image and have ANY idea of what it would look like on final output. After calibration… just fine. Lesson… by all means calibrate your monitor!
The first 80% of Neil's great book is dedicated to setting up your system workflow (including a great process for storing images that should make it easy for you to find any image you shot pretty quickly), and then processing your images – which is the reason Neil wrote the book. Neil goes over all the basic tools of processing. He uses, and refers to techniques in Adobe Photoshop Lightroom
, but there are several other good programs that you can use to get great post processing results for your photos.
One of my favorite pages is #86 – "Get it In Camera!" It goes back to what I have always said about starting with the best possible image. For instance, see my review of Neil's Photo Nuts and Shots: "Start with the best original image possible for the best final result." Then, no matter how much we mess with it, we will get always get best final results… plus we always have the high quality original to return to, either for nice prints, or for different processing paths – leading to different end results." Years ago, when I was producing various sound tracks and videos for Minolta product introductions, training, and sales meetings, there was always the old saying, "We'll fix it in the mix." This cliché was never a good idea – it was worth the time to retake a section of narration or reshoot a video scene to get the, "best possible original." This way, we always got the best end result without the various editing and processing hassles that detracted from the quality of the final program – and cost us more time. It also goes back to our film photography days – get it right in the camera so you have the best possible original… because you can ALWAYS go back to the high quality original and start over. Read and re-read this page – it is an attitude that will always lead to better photos to show on the web or hang on your walls.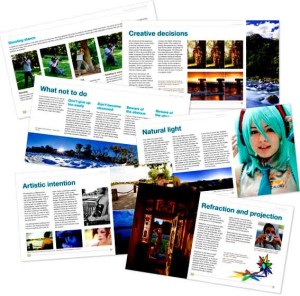 Another great addition to the book: his comprehensive, multi-step "Processing Walkthroughs" are great. He offers five. In addition to the five pages of Walkthroughs, if you still want to see the processes in greater depth, Neil INCLUDES EIGHT step by step VIDEOS showing you exactly what he did – and why – for several of the images in the book. You can't get much better than that… and, as I said, the videos are included when you purchase the book. The book itself is a great deal, but when you add in the videos, this becomes an outstanding bargain… and your photography will benefit far beyond the modest investment – mine did.
The remaining 20%… goes into depth on… now that you know how, a great discussion of, WHY? What is the benefit of indulging in all this processing? Of course, the answer is, better photos to show. But Neil MOTIVATES YOU!
So if you combine the great workflow ideas, the excellent post-processing instruction with written AND VIDEO walkthroughs, plus Neil's great motivation pushing you to better images, you have a real bargain here – well worth the modest price.

A great companion to Neil Creek's Photo Processing book is Phil Steele's Adobe LightRoom Course. With what you learn from Neil and his videos, complemented by Phil's videos, you will be a LightRoom EXPERT in very short order. Phil goes into depth on: Creating Stunning Images, Protecting Your Work (Copyright), Get More Done in Less Time, Retouch Portraits like a Pro, and MUCH more. You can get Phil Steele's LightRoom Course here:

Or click the link on the right side of the page.
Enjoy…