I just bought Todd and Sarah Sisson's new book, Loving Landscapes: A Guide to Landscape Photography Workflow and Post-Production… and this looks to be not just a good one, but a great one!
As I write this, I'm only about half way through this gorgeous 207 page book, and from scanning through it and looking at the Table of Contents…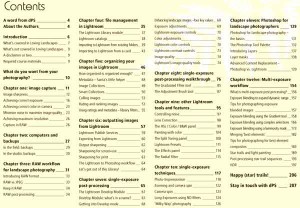 … This looks like a book that will really help anyone looking to seriously upgrade their Landscape Photographs by about 500 steps – it looks that good. When I finish reading it, I'll create a full review, but I bet it's going to be a good one!
This book is really the companion/second part of Todd and Sarah's Living Landscapes… and if you haven't seen my review of Living Landscapes yet (and you definitely should! You can see my it here).
There are a couple of immediately visible upgrades to this book from Living Landscapes – which didn't need any upgrades. First, the writing is LOTS better – even though Living Landscapes was, indeed, very well written. Next, and just as obvious, there are LOTS more SPECTACULAR Landscape Photos in this one… so, though I said that the first book could easily be a coffee table book, this one should definitely be a coffee table book. You'd want to pick it up and read it, and your guests would want to pick it up and just look at the photos! (Remember, it is an eBook, so you would need to print it out yourself to make it a coffee table book.) Plus, it looks like Naomi Creek has upped her layout game – though Living Landscapes was beautifully laid out, this new book, Loving Landscapes is noticeably better… nice job Naomi!
And the photos… holy cow! When you get your copy, quickly look at pages 5 and 6. These photos, because of the post-processing Todd and Sarah have done, are very reminiscent of the paintings by Thomas Kinkade: The Painter of Light… see if you agree. And the whole idea of this book is to show you, step by step, how to create your own landscape photos that look just as spectacular. Both of those photos are shown in this layout… but they are really too small to do justice to them – get the book.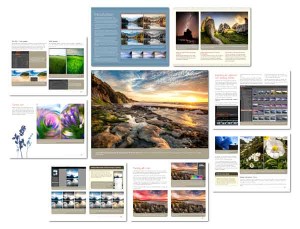 OK… this is just a quick note so you won't miss out before the price goes up, so here is the link where you can get this great book. By all means, buy it, read it, learn from it… and proudly show off the great landscape photos you'll produce because of what you learn here!